BOOK REVIEW | Prodigal by Zaria Garrison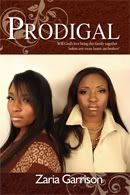 Prodigal by Zaria Garrison
Review by Tavares S. Carney
 Not Double the Fun
 Zaria Garrison introduces us to Phylicia Morgan and Phoebe Cox, twin sisters with an estranged relationship.  Phylicia is a stay-at-home, wife and mother to the Reverend Gary Morgan.  Phoebe is financially stable and seems to be living the American dream.  Phylicia, on the other hand, is a flighty diva, the go for broke type that loves to keep up with the Jones', or in this case, the Morgans.
The plot thickens when the twins' mother falls ill, taking a turn for the worse, and asks Phylicia to call Phoebe home.  When Phoebe gets to Brown Bottom, painful feelings resurface for both of the twins.  Phylicia can't help but sense that something is awry when mystery teen, Pharrah, shows up on her door step.  Phoebe's jealousy overcomes her to the point where all she can do is think of how she can have the life her sister has, including her man, the Reverend Gary.
This selection has so many secrets and lies intertwined in the plot, I felt as if I was reading a soap opera.  The reality though is that some people do live soap opera lives.  Full of raw emotion that leaps from the pages, I found myself angry, empathetic and forgiving at one point or another with each of the main characters, Phoebe, Phylicia and Reverend Gary.  This story had me thinking about how families either come together or grow apart after experiencing the loss of a loved one.
I enjoyed this selection.  Just when I thought I had everything figured it, there was another twist.  The author held my attention and this was a fast read for me.  I recommend this selection to anyone who enjoys a fast-paced storyline that keeps you guessing.  Although drama-filled, the author does a good job with Biblical references, reminding readers that there is always a source to turn toward for help, God.  If you are interested in topics such as sibling rivalry, jealousy, competition, family turmoil, forgiveness and redemption, this will be a good read for you.
I would read another selection by Ms. Garrison.
Review by Tavares S. Carney